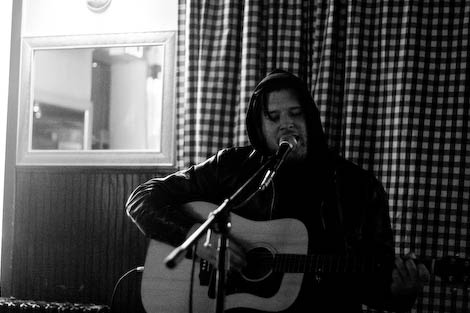 LTG 003 // Wooden Wand // AZAG-TOTH
Wooden Wand is the band and pen name of James Jackson Toth - a virtuoso songwriter of the mythic variety, and easily one of my favorite living songwriters. No accurate account of all Wooden Wand releases has ever been made, but according to various web logs, the count could be anywhere from 26 to 103, and AZAG - TOTH is the latest, for the brief now, in that epic American mythology.
Like many of my favorite Wooden Wand records, AZAG-TOTH was recorded at home by James onto his trusty Tascam 8 Track digital recorder without band or producer. Just pure song, story, and syllabic transmission from the man himself. In this current world of music there are LPs, EPs, Cassettes and CDs, side projects and digital streams, and let me just tell you that this 8 track, 30 minute album holds up to all of my favorite Wooden Wand records.
The songs are beautiful, clear, and immediate. Each character and melody takes on a new subtle layer with each listen as a new clear favorite song emerges with each listen too. James says that album opener the Parrot "is based on Flaubert's Un Coeur Simple" and of the album that he was exploring the musical idea of Metempsychosis. Calling James one of the most under rated songwriters as I recall on Facebook someone say someone did just can't be true, as everyone I know thinks he is one of the best.
In fact, here is what Michael Gira said of James for his awesome YGR release Death Seat: "James Jackson Toth's got that picaresque quality that Dylan had in his heyday, wherein the shambolic narrator undergoes various travails and epiphanies—harrowing, bleak and darkly comical—in the course of a narrative, then leaves you mystified, both smiling and sad." - Michael Gira (Swans / YGR )
I could give a play by play about how genius each of these songs is, but no need. They are sonically self evident - just listen. - Seth Olinsky